Coley is a verified Service Disabled Veteran Owned Small Business (SDVOSB) committed to developing innovative solutions that enhance government performance.
Since Coley's beginning, our creative thinking, innovative use of technologies and collaborative approach has enabled us to offer superior training, performance, and information technology solutions to Government organizations.
Our team is fully invested in our customer's goals and aim to always exceed their expectations because we understand that our customer's trust must be earned and never taken for granted.
Our Core Values
Growth

We believe that we must continuously innovate and grow professionally to deliver the superior service we desire for our customers.
Our team members thirst for continuous growth professionally, emotionally, and spiritually in order to better serve our customers.

Optimism

Our can-do attitude and relentless focus on positive outcomes enable us to see solutions to challenges others may miss.
We believe we can change the world for the better and thrive on solving and overcoming challenges that create win-win situations.

Respect

We treat others with respect and act with integrity that gives others reason to respect us.
We demonstrate respect through our actions as we interact with our:

Customers
Teammates
Profession
and Ourselves

Excellence

We believe that anything worth doing is worth doing well and that focus on the details make the difference.
We pursue excellence in all that we do and continuously innovate to improve and achieve better results for our customers, our partners, and ourselves.

Accountable

We hold ourselves to a high standard and believe that we are accountable to our customers, partners, and each other to deliver on our promises.
We believe it starts with individual accountability — being the best that we can be by exceeding expectations and living Coley's corporate values daily.

Love

We are passionate about what we do and take pride in every aspect of our work.
We hire and work with people who share our passion for doing great things with a focus on helping others.
Our values reflect who we are as people and guide our approach to working with others. Every member of the Coley team embraces and lives these values every day. We are committed to "G.O. R.E.A.L."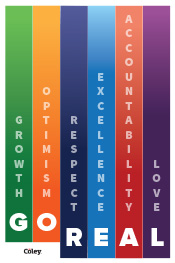 G – Constant quest to grow professionally, emotionally, & spiritually
O – Can-do attitude with positive outcomes
R – Respect for our work, ourselves, & others
E – Pursuit of excellence in all we do
A – Demanding the best from ourselves & each other
L – Passion for making a positive difference